A keyboard is an essential tool for anyone who spends a lot of time typing or gaming. A quality keyboards will give you accurate work and it will help you work faster. Additionally, a great keyboard will make your game time much more enjoyable. The best keyboards in the market at the moment are the mechanical keyboards.
The increased demand for home Personal Computers in the 1990s and early 2000s resulted in the rise of cheap keyboards that were not as good as the mechanical ones. However, the mechanical keyboards are becoming popular again. The fact they have actual physical switches to register when a key has been pressed gives the user more psychological satisfaction.
Most keyboards have rubber/silicone dome-shaped switches. When pressed, the switch goes through a hole in the middle membrane and connects with the top and bottom membranes. This, in turn, creates an electric circuit that makes the keyboard send input to the PC. Such keyboards are designed inexpensively with spill resistant, have less tactile and audible feedback and have a great influence on how you type.
Top 5 Mechanical Keyboards: Recommended
Therefore, the main difference between most keyboards and mechanical ones is the switch. This explains why normal keyboards have a mushy feel when pressed.
Characteristics of mechanical keyboards  
They are loud: this is a great thing as it gives you feedback for each keystroke you make. At the same time, the loudness will defer depending on the manufacturer. Loud keyboards can be great or bad depending on your environment. Using a loud keyboard in an office can be distracting to others. This is one of the disadvantages of mechanical keyboards.
They are durable: Compared to other types of keyboards, they have a long lifespan. For instance, after five million keystrokes, the dome switch in most keyboards collapses and works less or stops working completely. However, the parts used to make a mechanical keyboard are more substantial hence giving it a longer lifespan than normal keyboards.
They are heavy and thick: Because of the hardware used, mechanical keyboards are heavier and thicker than their counterparts. They weigh about three pounds and do not move around on the desk which is great.
They change how you type: a Cherry MX Blue mechanical keyboard is designed to click each time the letter actuated. Therefore, the user you will know that when they hear the click, they should stop pressing farther. Using less force leads to light and faster typing.
Most mechanical keyboards use Cherry MX switches. The Cherry MX Blue has a 50 centi-Newtons (cN) actuation force which is great for a serious typist. Thus this type of switch is not the best for gaming. Some people will find it annoyingly loud. The Cherry MX Black has a 60 cN actuation force requires a user who requires a lot of precision. This is, therefore, a good keyboard for gaming. This keyboard lacks tactile and audible feedback.
The Cherry MX has a 45cN actuation force. It is a recommendable keyboard for typists and gamers. I t has the same tactile feedback as the blue switch but is less audible.
Although expensive, mechanical keyboards are a great investment.
Let's look at 10 best mechanical keyboards you should consider purchasing in 2018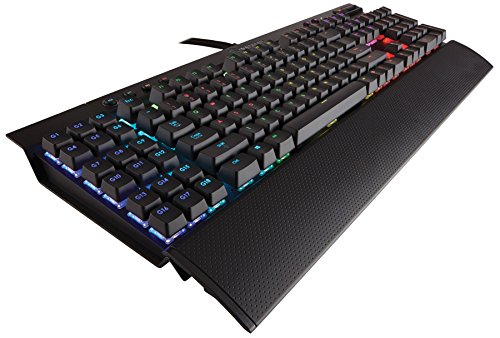 The Corsair Gaming K95 RGB is characterized by the legendary K95 performance. It has customizable back key lighting. Each key can have its special backlight color which makes this the coolest mechanical keyboard ever.
Features
100% Cherry MX Red Key Switches: these switches are smooth and they provide a high actuation force. The keyboard does not have an audible click or a tactile bump. The keys have a high responsive rate, especially for more than one tap.
Aircraft-grade black anodized brushed aluminum finish: the keyboard is lightweight, durable and has an overall cool look. This is a great feature for a keyboard that is bound to be used a lot.
18 G-keys with up to 108 macros for faster gaming: the keyboard features macros, presets and key combinations for your gaming needs. You can as many as three banks with 36 programmable functions for every key. The macros are customizable.
100% anti-ghosting with 122 key rollover on USB: Each keystroke is accurate even when more than one key is pressed. The keyboard keeps up with you regardless of how fast you play.
A soft detachable wrist rest: the wrist rest ensures that you are comfortable while using the keyboard. It can be removed if it gets in the way.
Set a macro to any key: in case the 18 G keys are not enough, assign any key a macro function using the available software such as FPS, MOBA, and Minecraft.
Impressive RGB animation: this keyboard has a Panasonic display controller that displays light in a range of arrays
Onboard memory: if you take your gaming with you, this keyboard is perfect for you as it has a built-in storage.
Accessible multimedia controls: Besides playing games, you can play music and videos. The play, pause, stop and skip controls enable you to play music and videos easily. It also has a volume adjusting control.
Backlight customization: you can customize backlighting with options such as static lighting, color cycling, waves and ripples and reactive typing.
Pros
Customizable backlighting for each key
Impressive aluminum design
Detachable wrist rest
Numerous programmable options
Cons
Frequently Asked Questions
Q: I find the loud keyboard noise annoying. I read that the Cherry MX red switch keys do not have an audible click. However, I have read some reviews saying that it is loud. Is this true?
A: It is and it isn't. The keys are noiseless. However, if you press them hard, there will be a click sound. The trick is learning how to depress the keys slightly. This way you type faster. On the other hand, the sound made when pressed hard is not the same as the sound from other keyboards.
Q: It looks as if the G Keyboard is detachable from the rest of the keyboard. Is this true?
A: No. It does appear like it would, however, the line does not continue to the bottom of the keyboard.
This is the just the kind of keyboard I was looking for. I am a competitive gamer and this keyboard handles FPS, MOBA, RTS and MMO. This macro customization is a plus. Additionally, I can program repetitive sequences I often perform in a game. I really love the Cherry red switch which lacks an exaggerated click. I highly recommend this product.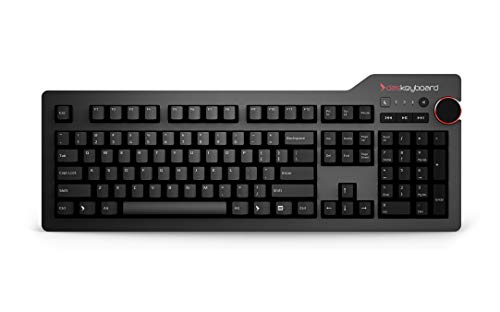 Das keyboard is one of the best keyboards in the market. The Das keyboard 4 series has a few changes compared to the Model S.
Features
Aluminum front cover: Other than the glossy front cover of the former Model S generation, this keyboard has a sand-blasted aluminum front cover which is really beautiful. This makes the keyboard sturdier and has a firmer feel when pressing the keys. The texture also wards off fingerprints. The lips of the keyboard are longer than the base hence ensuring easy lifting.
100% Cherry MX Brown/Blue switches: the das keyboard 4 comes with either Cherry MX Browns or Cherry MX blues. The Cherry MX blue is recommendable for typists. It has a 60 cN actuation force and a pronounced tactile bump. The Cherry MX brown is recommendable for gamers. It has a high responsive and light feedback which gamers require.
Laser etched keycaps on ABS plastic: the plastic is dyed in black rather than just being coated in black which reduces the yellowing effect after exposure to UV rays.
Costar stabilizers: the larger keys feature costar stabilizers. The downside is that the left shift key squeaks when clicked quickly. This is perhaps due to a lubrication defect.
N-key rollover: This feature can be disabled or put on depending on what you prefer. It is disabled by default in case you are using an old model motherboard. To toggle, press shift and mute.
Volume knob: the presence of the volume knob on the keyboard makes adjusting the volume quite easy. Other media controls are sleep, pause/play, track back and track forward.
USB 3.0 ports: these two 3.0 USB ports are at the rear edge of the keyboard. This ensures that plugged objects will not bump into your hand. The USB 3.0 is faster than the 2.0. In case you have an older computer, the keyboard can still work as USB 2.0.
Magnetic footbar: Metadot has replaced the previous flip out legs with a magnetic footbar. However, it makes the keyboard move around easily which is annoying. The footbar is also a ruler which is a bit odd but kind of cool.
Pros
An impressive matte finish
A volume knob
USB 3.0 ports
Footbar that is also a ruler
Cons
No backlight
No macros
Slippery footbar
Pricy
Frequently asked questions
Q: Is the cord actually 66 feet long?
A: No. I think someone left out a period. It is 6.6' and USB 3.0
Q: How can I tell the home keys on this keyboard?
A: There are two dashes on j and f and there is one of 5.
Q: Is this model compatible with Mac?
A: Yes it does. I have connected it to Mac and I can confirm that it is compatible. It will recognize the keyboard but you have to change the option and command keys on the keyboard.
I thought I had experienced great mechanical keyboards until I bought the Das keyboard 4 with Cherry MX brown switches. I use it for both typing and gaming and it is perfect.
This keyboard is worth every penny (for it is actually very expensive). The keyboard is solid and the keys are laser-etched. I also like that the Windows key does not actually have the Windows logo on it. The spacebar has a perfect length.
The media controls are a bonus while the footbar gives the keyboard a great typing angle. The ruler is addition is cool. It can be used to measure something in case of an emergency.
This is a great keyboard. I love it. The lack of a backlight is not a problem for me. I never miss it. I strongly recommend this keyboard.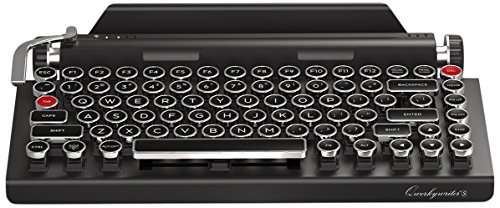 The qwerkywriter is a Bluetooth mechanical keyboard. It is designed after a typewriter with a range of modern elements.
Features
Tablet built-in holder: the built-in holder is compatible with any size of a tablet. However, the tablet can only sit vertically. This might be inconvenient for someone who would prefer it to be at an angle.
Aluminum body: it has a beautiful aluminum body.
Bluetooth enabled: the keyboard is Bluetooth enabled which makes it really cool. It has a light to indicate a Bluetooth connection.
Kailh switches: though not as great as Cherry switches, the Kailh switches are clicky and very firm.
Micro USB port: the keyboard has a USB port for charging located at the rear, behind the tablet holder.
Power switch: this power switch is located under the keyboard's right knob.
Long lasting battery: the battery can last three months without charging.
It is portable: this keyboard weighs less than three pounds and can fit inside a messenger bag. It is, however, it is not designed to be portable.
Resembles a typewriter: the overall design of this keyboard resembles an old-fashioned typewriter. For instance, the tablet holder is a replica of the paper feeding drum.
Has all keys: it has functional, symbol and number keys as seen on your typical keyboard. The keycaps are round with the characters written in white on a black matte plastic ringed with chrome. The keys feel great beneath the fingers. The red Tab and Del keys give the keyboard an impressive look.
A carriage return lever: the keyboard has a chrome lever which is located on the left of the Esc key. The lever acts as a carriage return but it can be programmed with any combination of keys.
Overall, this is a cool keyboard which could be given as a gift to someone special given its price tag.
Pros
Beautiful design
Comfortable keycaps
Bluetooth mechanical keyboard
Cons
Very pricey
No option for switching devices
The tablet holder is not adjustable
Frequently asked questions
Q: Is it possible to connect the USB to a computer instead of the wireless connection?
A: No. It connects only via Bluetooth. The USB port is for charging only.
Q: A beautiful keyboard indeed! But is the price worth it? Should I wait for the v2-3 to get the bugs sorted out?
A: I bought this for my father and it was totally worth it. I have not experienced any bugs. The only disadvantage is that Mac shortcuts for video editing can be tricky due to lack of a configuration. You should certainly buy it.
Q: Can this keyboard be used in a public area?
A: No. It has an audible click which will be too loud for a public area.
Q: Does it work with a keyboard like a surface?
A: As long as you have Bluetooth, it should work. I have used it on my iPhone and iPad or any other type of phone.
I love this keyboard although it has two defects. One is that it goes to sleep after a very short time and has to be switched on which is quite odd. Secondly, the two keys on the left of the space bar are useless on my Mac. However, one I got past these issues, I found the keyboard very enjoyable. The keycaps are very comfortable.
I often wonder if the battery can be replaced. Additionally, I thought that it would have been great if the lever could function as a mouse.
I recommend this product.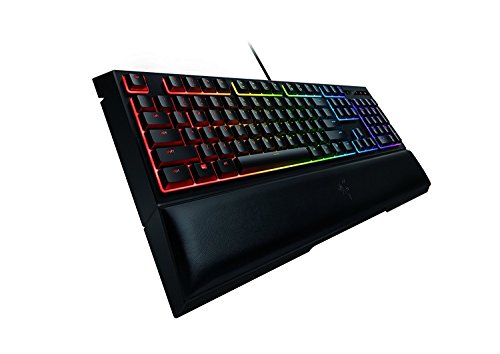 Razer's Ornata Chroma is an affordable keyboard for both typists and gamers.
Features
Mecha-membrane: Razer uses both silicone dome switches and mechanical switches. The aim is to give the user the advantages of both. Razer calls this technology mecha-membrane.
Shorter keycaps: Razer has designed short caps which require less force to press. The short cap decreases the amount of time it takes for an action to be registered. Therefore, the user can type faster and play faster.
A padded wrist rest: the keyboard features a large padded wrist which is about 3.5 inches deep. It is connected to the magnetized front of the keyboard.
Customizable backlight: the backlight can be customized using the Razer Synapse Software which has 16.8 million colors and pre-configured patterns.
The keyboard lacks a USB port, macros, and media controls. To access functions such as volume and macro recording, you have to hit the fn key (which is in the place of the right Windows key) and the relevant function key. Every other key configuration functions such as setting up macros can be performed using the Synapse software.
The mecha-membrane element of this keyboard requires a little getting used to. This is because the short keycaps feel sticky at first. Additionally, the audible click occurs before actuation has already taken place. This can lead you to think that you have typed something at a different time than you actually have. This can be tricky when typing. For gaming, however, the actuation point is at 3.5 millimeters which reduce the chances of hitting a key accidentally.
Pros
A low-cost gaming keyboard
Good typing experience
Padded wrist rest
Cons
No USB port
No macros
No media controls
Frequently asked questions
Q: Is the wrist rest detachable?
A: Yes it is.
Q: Is this keyboard compatible with Mac or PC?
A: Yes. It is compatible with all devices as long as you have a USB. I would suggest that you don't use a converter, though.
Q: Does this keyboard have USB ports
A: No. Razer's keyboard lacks a USB port which is a great downside
Q: Does the keyboard work with Chroma apps for the blackwindow
A: Yes it does. It is a Chroma keyboard after all.
Q: Does the keyboard feature an onboard memory to store color patterns when connected to a device without the Razer software installed on it?
A: No.
I have been using the Logitech K800 for a couple of years now. I was really into wireless keyboards and the K800 provided this element plus backlighting. The wireless element was excellent but the backlighting began to fade and with time this issue interfered with my typing. So I decided to get a keyboard that uses the both of two worlds. The Razer Ornata Chroma fit my expectations completely. It has great response, it is not too loud or too mushy and a strong travel.
Keyboards are difficult to review and recommend. This is because what counts as a good fit has a lot to do with personal taste. However, if you want to the best of both worlds, this keyboard is the way to go. I recommend it.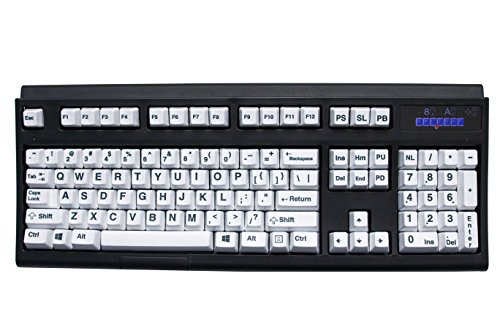 If you were ever in love with IBM's Model M keyboard, then you shall certainly love the Unicomp Ultra Classic which is made is manufactured by the company that purchased the design, tooling and licensing for the Model M. This keyboard truly lives up to its hype.
The keyboard looks old-fashioned, is big, weighs about 3.18 pounds and has a plasticky deck that moves when a lot of pressure is applied. There is little of interest on the external parts of this keyboard. However, the inside is much more interesting.
 Features
A buckling-spring: once you hit a key, the hammer under creates an electrical current that registers the keystroke. Concurrently, the spring under the cap buckles and hits the outer key shaft causing an audible click. This means that unlike other mechanical keyboards, you will receive feedback, both tactile and audio, at the exact moment the switch is activated. This element is divine to any serious typist.
It has a high actuation force of 65cN, a deep actuation point of 2.3 millimeters and a shallow travel distance of 3.7 millimeters. This means that you will get a different experience when using a Cherry switch keyboard.
Two pop-out feet: the pop-out feet allow you to place the keyboard at two different angles.
Large font keys: this keyboard features large black characters printed on a white, gray or pearl key.
Customizable keycaps: you can custom design your keyboard with the available thirty-four languages and layouts such as the US variation of Mac, Linux, Dvorak and blank keycaps. Other options that can be bought are keyboards with terminal keys or with a track point pointing stick.
Pros
Great for typing
Manufactured in the US
Can be configured
Cons
Really loud
No media controls
A plastic deck that is unstable
No backlight
No USB port
No frills
No volume controller
No function that can be used with the F1 to F12 to double as media controls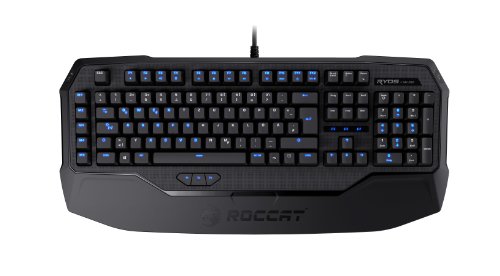 Roccat has become popular for offering special keyboard and mice features for an attractive price. This keyboard is ideal for the entire range of gamers.
Features
Blue backlighting: the keyboard features blue backlighting. You can also customize the lighting for each key to your preference. There are limitless options especially because the keyboard comes with its own SDK.
Programmable macros: the keyboard has eight macro keys. Five are located on the left. That is M1 to M5. The rest are located below the spacebar. That is T1 to T3. You can also create your own macro key by using the shift key.
Smudge-resistant finish: the keyboard features a black deck and keycaps which reduce the appearance of fingerprints.
Broad wrist rest: the broad wrist rest provide added support for the gamer.
Two ARM processors: the two processors manage all the programmable macros, lighting features, and N-key rollover flawlessly.
Onboard memory: the keyboard offers 2MB onboard memory.
Two USB 2.0 ports: it also has ports for a headset, microphone, and mouse.
100% Cherry MX blue switches: the keyboard features blue switches. However, it can be configured with brown, red and black.
It is compatible with all Windows.
Pros
Has four Cherry switch options
Has a wide wrist rest
Onboard memory
Two ARM processors
Two USB 2.0 ports
Each-key backlight
Programmable macro keys
Cons
Blue is the only backlight color
Non-detachable wrist rest
Frequently asked questions
Q: What is the layout for this keyboard? US or German?
A: I think it depends on where you purchase the keyboard. On the Roccat website, there is a layout list for each country.
Q: Has anyone fixed their LED issues? I would like to buy it, but it looks like everyone has a LED issue
A: I have not fixed my LED issues yet. I have used this keyboard for eight months and so far six LEDs have gone out. I have seen a video on your YouTube where you can learn how to fix them. You should probably look for it.
Q: Is the keyboard compatible with Mac and Linux?
A: I am not certain about Mac, but with Linux, it works perfectly. You can use a third party PPA with a configuration application which can do what the Windows app does. However, the process can be tricky. You can also use Windows installation and program it under Windows. This way you operate while in Linux. This is a good alternative if you cannot access the Linux configuration app.
The keyboard has worked well for a year but several LED lights have not. So some of the keys no longer have a backlight and it began in the first month after purchasing it. Every time I start my PC, I find that another key has lost its backlight. Although the keyboard itself is still very functional, I hate working on a keyboard without backlighting. This minor flaw on a pricey product is greatly disappointing. All the same, the keyboard has great features and is perfect for someone who does not mind the lack of a backlight.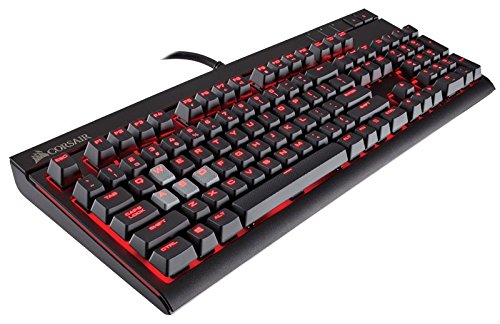 Although the Corsair Strafe mechanical keyboard lacks some key elements such as lighting options, it is still a solid tool for gamers. It also has an affordable price.
One of the best features is two keys in the top right corner of the keyboard which can be used to adjust lighting brightness and disabling the windows key when playing.
Features
100% Cherry MX red switches: these switches have 100% anti-ghosting and full key rollover to avoid lag and jamming.
Red backlight: although the red is the only color option for backlight, it matches with the smooth red color beneath the keys.
Customizable lighting pattern: using the Corsair Utility Engine Software, you can create your own lighting pattern or use the available preset patterns. These include a ripple effect, a horizontal wave, a scattered rain of lights and several other patterns. You can create your own patterns although it takes a little bit of learning to do it perfectly.
Programmable macros: unlike the K95 RGB which has 18 G-keys, this model of Corsair lacks this feature. Therefore, you will have to create macros by assigning standard keys commands.
A USB port: this USB port is used to connect devices such as a mouse.
Pros
USB port
Customizable lighting pattern
Cons
No wrist rest
No macros
Red backlight color option only
Frequently asked questions
Q: Can I use this keyboard on Linux?
A: No. Unfortunately, you cannot.
Q: Can the function keys be programmed to work as media controls?
A: Yes. With the software, you can program the function keys easily.
Q: Can the backlight be turned off?
A: Yes. There is a button for turning the backlight completely off.
Q: How does the keyboard work with competitive gaming such as battlefield?
A: It is excellent. It is the best keyboard I have used. I am sure you will have fun using it.
This is an amazing keyboard just like the K70. However, it is not anodized but that explains why it costs less. All in all, it is a firm keyboard.
I bought the keyboard with a key puller and extra key replacements. It does not have a wrist rest like the K70.
I found that I could not update the firmware using Windows 10 which was disappointing. However, I successfully updated the firmware using Windows 7. I would have given this keyboard a 10/10 if it was compatible with Windows 10 and if it had a wrist rest. Therefore, it deserves a 9/10. I recommend this product.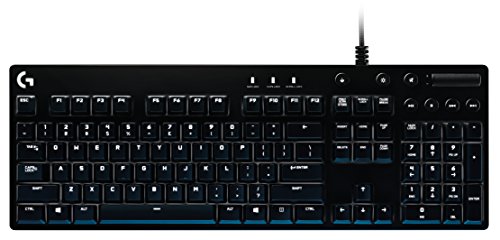 The Logitech G610 Orion Brown is a good keyboard for gamers. It is not as great as the Das keyboard but it has the necessary features to make it functional. Additionally, it is affordable.
Features
White LED backlight: the keys are light by a white LED backlight that can be put off.
Playback controls: the keyboard has playback controls such as game, mute and light. They are located on the top right corner of the keyboard.
A volume wheel: above the playback controls is a wide volume wheel which is easily accessible. It would have been great if it could double as a mouse wheel.
Two pairs of flip out feet: the feet are used to prop the keyboard in two different angles depending on what you prefer.
Customizable lighting pattern: you can create different light patterns using the Logitech software. You can also use the available light effects such as wave and twinkling.
Programmable F-keys: using the Logitech G software, you can assign each function key with a macro function.
Cherry MX brown switches: the keys have Cherry MX brown switches with the exception of the media control buttons. This means that they have to be pressed lightly. The brown switches have a tactile bump and lack an audible click. The 45cN actuation force and 2 millimeters actuation distance make the brown switches function perfectly with only a light touch.
Pros
Cherry MX key switches
Programmable function keys
Playback controls
A volume wheel
Cons
No USB ports
Lacks the option of a clicky Cherry MX switch
Frequently asked questions
Q: Which is better, red or brown?
A: This depends on your taste. The red switches are said to be better for gaming while the brown switches are considered to be great for both gaming and typing. So, if you need a keyboard for gaming only, use the red switches and get the brown ones if you want to use the keyboard for both gaming and typing.
Q: Is the keyboard compatible with a Linux operating system like Ubuntu?
A: Yes, but it will not be fully functional. Like the media controls will not be functional.
Q: Does this keyboard have a USB port?
A: No. it only has one USB cable for connecting your keyboard to your PC.
You can actually change the backlight pattern without installing the Logitech software. Do this by pressing the light button on the top right corner and press any of the numbers at the top of the keyboard. The numbers on the right of the keyboard will not work.
For instance, hold down the light button and press zero. This will result in a uniform backlight under all keys. Follow this up by pressing the light button and the brightness will change.
It is odd that Logitech did not include this in its user manual. Although their software is easy to use, it is not necessary for changing the backlight pattern. I also own a Logitech G13 gameboard which works well with the software. However, I use the software more on the G13 than on the G610.
This is an awesome keyboard. I love the Cherry MX brown switches, its weight and the simple and clean backlight. I strongly recommend this keyboard.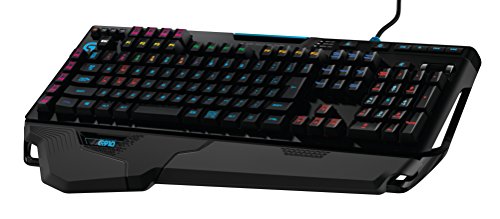 The G910 Orion Spectrum is an updated version of the G910 Orion Spark which was designed for serious gamers.
Features
Media controls: this keyboard features media controls such as play, pause and stop.
Romer-G mechanical switches: this mechanical keyboard features Logitech's Romer-G key switch.
Detachable wrist rest: the wrist rest is lighter and shallower than the Orion Spark.
Arx smartphone dock: this dock holds a smartphone which can be used as a second screen while playing. The process of syncing and setting it up is long. However, this feature is not actually a necessity.
Customizable backlighting colors: using Logitech Gaming Software can be used to change the backlight for each key. There are 597 preset lighting profiles.
Pros
Preloaded lighting profiles in the software
Customizable lighting
9 macro keys
113 rollover keys
Cons
Arx dock is not practical
Frequently asked questions
Q: Does this keyboard have normal keycaps or sharp angle ones?
A: It has normal keycaps unlike the G910 Orion Spark
Q: Does it have USB ports?
A: No it does not
Q: Does this keyboard have two wrist rest sizes like the Orion Spark?
A: No. It has a lighter and narrower wrist rest than the one on Orion Spark.
This is the best keyboard I have used so far. The Romer-G switches are simply awesome. Each keystroke is accurate, satisfying and sensitive. You will definitely feel the difference if you are switching from silicone dome switches or Cherry switches.
Logitech has done a great job listening to customer opinions. I am glad they changed the shape of the keycaps. The Orion Spark keyboard had odd shaped keycaps with rough edges.
The fact that you can use the software to change the light profile per key is also very cool. I recommend this product.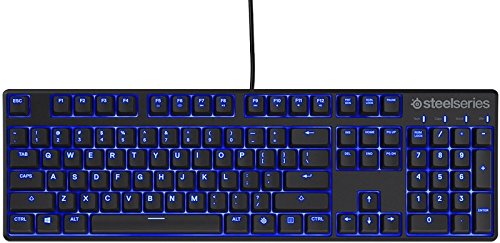 The Steelseries Apex M500 is a mechanical gaming keyboard that focuses on the basic functions. It is a good choice for gamers who prefer function over form.
Features
This keyboard has a 10-key number pad and 104-key rollover for anti-ghosting. It has a black plastic matte finish that looks quality.
Cherry MX red key switches: these switches are durable because they are reinforced with a steel back plate.
Large adjustable footbar: it keeps the keyboard from slipping and routes the keyboard cable in any direction.
Blue LED backlighting: since the keyboard does not have RGB lighting, blue is the only color you get. It cannot be customized as the backlight is not per key.
Programmable keys: macro commands can be assigned to each key by using the Engine 3 software.
Pros
Programmable keys
Affordable
Cherry MX red switches
Cons
Blue as the only option for backlighting
No dedicated macro keys