A light novel is a short Japanese source for anime adaptations. The "term" light novel was coined by Keita Kamikita in 1990. Kamikita operated an online science fiction and fantasy forum when he realized that science fiction and fantasy novels that contained illustrations by manga artists were attracting manga and anime fans. Therefore he gave these novels to the term light novels because they targeted a broad range of readers.
Kadokawa is the leading company in light novels marketing. It was founded in 1945 by Genyoshi Kadokawa. Kadokawa acquired Media Factory in 2013. This resulted in a rise of their male oriented light novels.
Other companies in the light novel industry are Shueisha, GA bunko also known as SoftBank, Kodansha Ranobe Bunko, GAGAGA Bunko also known as Shogakukan, and Daria Bunko also known as Frontier Works Inc.
The light novel production follows the media mix strategy where the sales of a light novel series will increase when an anime is aired. This gives publishers a motivation to invest in expensive anime.
Light novels are produced in large numbers meaning that publishers have a crazy timeline. This is why light novel writers are short lived. Writers cannot make a stable living out of writing light novels. Additionally, the high turnover of writers results in companies getting new writers through contests. The most common contest is the Dengeki Novel Prize held by ASCII Media Works, owned by Kadokawa.
The difference between a light novel and manga
Light novels and manga are two different kinds of media. In most cases, you will have a light novel being converted into manga but not the other way around. On the other hand, light novels contain fewer illustrations as compared to manga. Some light novels will actually have no illustrations at all.
Light novels are characterized by about 300 pages but they can be longer at times. Generally, when it comes to light novel rules, exceptions are sometimes made.
Let's look at 10 really good light novels you can read. They are fun and refreshing.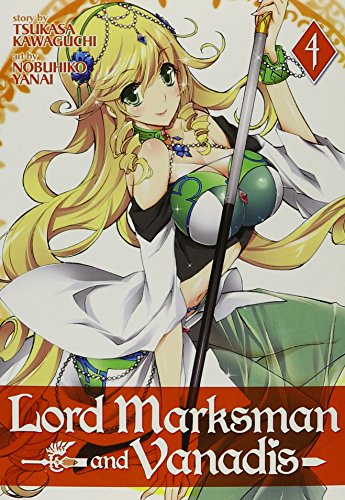 This light novel series volume one to eight is written by Tsukasa Kawaguchi and illustrated by Yoshi and Hinata Katagiri. While the rest are published under Media Factory. The first volume was released on 25th April 2011 by Media Factory.
Summary
The story is set in a fictional European country named Brune. Brune is under the leadership of Faron whose health is in a deplorable state as his two heirs, Felix Aaron Thenardier and Maxmilian Bennusa Ganelo struggle for power. This makes Brune vulnerable to its enemies.
Taking advantage of the situation, Brune's enemy, Zhcted declares war on Brune. The war is led by one of the Vanadis by the name Eleonora Viltaria. There are seven Vanadis each with a powerful given by the dragon. Each Vanadis is to reign over a kingdom of her own. The power of the Vanadis is enough to make their enemies scared. The battle is fought on the Dinant Plains.
Brune loses the war to Zhcted and a Brunish Count who is an archer is captured (he is the only survivor of the war). After winning the war, Eleonora gets into the task of restoring peace in Brune. The Count of Alsace, by name Tigre, has his life spared on the condition that he will serve Eleonora.
Tigre is informed of Zion's intentions to subjugate Alsace. Zion is Thernadier's son. Therefore, Tigre returns to Alsace with the help of Elen where he saves his maid Titta while Zion is killed. Afterward, Elen returns to her home country. In Silesis, the capital city of Zhcted, Elen visits her king Viktor Arthur Volk Estes Tur Zhcted. She lets the king know od her victory in Brune, and asks for his permission to make Tigre her general. With the help of Sofya Obertas, a war maiden of Polesia, her request is granted. During this visit, Elen stumbles onto her enemy, a war maiden by the name Ludmila Lourie. She is a supporter of the Thernadiers.
Elen goes back to Tigre and they travel to Olmutz, Mila's home, to fight her. On discovering Tigre's intentions to save Alsace, Mila takes a neutral stand in the war. With the help of the Territoire's Viscount Hugues Augre and his son Gerard, the armies of Brune and Zhcted join to form Silver Meteor Storm.
In Brune, Marquis Charon Anquetil Greast is ordered to kill Tigre by Ganelon. However, he is defeated. Sofy confides with Tigre of the fact that he has been charged with treason for working with Zhcted.
A Brunish knight and captain of the Navarre by the name Roland fights the Silver Meteor Storm only to be defeated. Roland returns to Nice, Brune's capital city where he pleads mercy for Tigre to Faron. Ganelon kills him instead.
The kingdom of Muozinel plans on capturing Brune's southern region called Agnes. Muozinel is a kingdom that sends slaving explorations to Zhcted and Brune.
Tigre travels to Agnes with his allies and rescues it from Muozinel. He also frees Regin Brune's rightful heir and Regnas who was believed to be dead.
Elen is informed by the Legnica war maiden, Alexandra Alshavin, that Legnica is to be invaded by Elizaveta Fomina of Lebus. Elen fights with Liza and arranges a peace treaty between Lebus and Leitmeritz. She then joins Tiger and the army to regroup.
To prove Regin as the rightful heir of Brune, Tigre and his allies enter the Holy Grotto Saint-Groel and fight Thernadier and his soldiers. Thernadier's death is celebrated by the public for it marks the end of the war. Tigre's charge of treason is lifted with a pardon. Additionally, before Faron dies, he gives Tigre the title of Knight of Lumiere. The Knight of Lumiere is an old title that bestowed on the heir apparent. This piece of information os only known to the Brunish Prime Minister, Pierre Baudoin.
After the death of Faron, Regin becomes Queen of Brune. On the other hand, Ganelon and Greast go into exile under the protection of Valentina Glinka Estes, a war maiden.
This light novel is way better than the TV show. Can't for more volumes to be released and hopefully, they will have English translations. I recommend this series.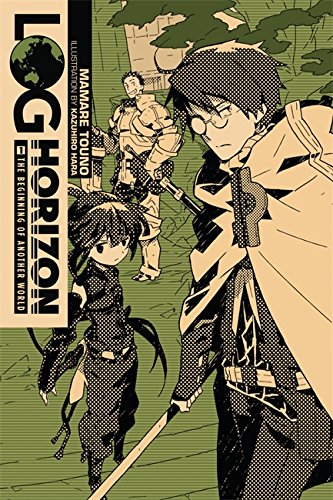 Log Horizon is a light novel series written by Mamare Touno and illustrated by Kazuhiro Hara. The series has manga adaptations and a television series. The light novel series is published by Yen Press.
Logo Horizon first appeared on the web in 2010. The first English novels were released in 2015. The beginning of another world was published on April 21, 2015.
Summary
The story is set in the year 2018, where on the third day of May, the lives of thirty thousand Japanese players is changed. They are the players of a famous MMORPG Elder Tale game. These players now find themselves inside the game.
A private and popular Enchanter by the name Shiroe among the trapped players. He reaches out to his friend Naotsugu, a Guardian and the two explore the streets of Akihabara, the game city. As they explore the city, they come across one of Shiroe's friends, a Cleric, by the name Maryelle. She takes then to her guild hall where they discuss the issue.
A few days later, they meet yet another friend of Shiroe. He is the apathetic Assassin by the name Akatsuki. Akatsuki turns out to be a woman stuck in her male avatar. Using an uncommon appearance changing drug Shiroe saves her. As a way of showing her appreciation, she commits herself to him as his ninja. The three players dedicate their time to sharpening their fighting skills while they watch the deplorable state of the city.
One day, as they carry out their fighting exercises outside the city, they are attacked by player killers also known as PKs. With their skilled coordination, they defeat the attackers and kill their members as well.
Shortly after this attack, Shiroe, Naotsugu and Akatsuki are called over to the Crescent Moon Alliance's guild hall. There, they are informed by Maryelle and Henrietta that one of their members, a low-level Druid by the name Serara is trapped in Susuniko. The three are further informed that Serara had gone to the city to carry out a quest when the disaster struck.
Serara's predicament encompasses the fact that the transports barricades are down decreasing her chances of hiding away from the slave traders' guild Brigandia. Although Serara has been rescued by a Werecat Swashbuckler, the Crescent Moon Alliance guild is desperate to get her to the safety of Akiba. With the guild unable to undertake a rescue mission fast enough, Shiroe and his companions offer to aid the guild. Therefore, they set out to rescue Serara.
On arrival at the city of Susuniko, Shiroe and his friends discover that Serara's savior was actually Nyanta, an old friend of Shiroe and Naotsugu from the Debauchery Tea Party. With concerted effort, they defeat Brigandia's guild leader, Demiqas, and the deputy, Londark. They then head back to Akiba.
In case you enjoyed the anime, you will certainly enjoy the novel. The novel narrates the story in an in-depth way which better portrays the feelings of Shiroe who in the anime is painted as an invincible character. The book should be a fun read for anyone who enjoys online games.
Though not as funny as the anime, the book lacks technical words which make it a great read for anyone who has not played MMORPG games. I recommend this book.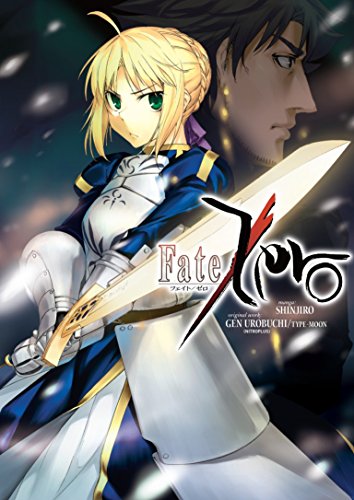 This is a light novel written by Gen Urobuchi and illustrated by Takashi Takeuchi. This is novel is a prequel to the visual novel Fate/Stay Night by Type Moon.
The novel has four volumes which were released between 2006 and 2007. The novel has also been converted to other media such as drama CDs which were released from 2008 to 2010. Anime adaptations have been produced by Ufotable. Two seasons have been aired so far with the last appearing on June 23, 2012.
Summary
The stage for Fate/Zero is set ten years before the events of Fate/Stay Night occurred. It accounts the happenings of the Holy Grail War in Fuyuki City.
The Holy Grail War is a contest founded by three families, one hundred years ago. The contesting families were Einzbern, Matou and Tosaka. This involved summoning of Seven Heroic Spirits by seven mages in order to contest and receive the power of the Holy Grail. The power of the Holy Grail bestows a wish on every member of the winning duo.
After three defeats, the Einsbern family decides that it will win at whichever cost. As a result, the family agrees to bring in a disliked magus killer, Kiritsugu Emiya, in spite of his inhumane ways and disgraceful behavior as an expert mercenary and hitman who will go any level, no matter how wrong, to attain his goals.
However, Kiritsugu had been different once, driven by the desire to be the heroic savior of everyone. But since discovering that saving one person would lead the loss of another, Kiritsugu had since dropped this notion. He now swore to vanquish anything and anyone who threatened the peace of others.
Kiritsugu now finds himself caught between the love he has for his new family, his wife Irisviel and daughter Illya, and the actions he must take to acquire the Holy Grail.
The story ends with a revelation on the Holy Grail's limitations. While it grants the winner with a wish, it relies on his wisdom and ways to carry out the wish. Unfortunately, the final war that was fought left the Holy Grail corrupted.
Fate/Zero is a great light novel and although the characters dialogue a lot, the plot is not interfered with. The story starts with the family of Irisviel, Kiritsugu's wife, deciding that after three failures, they will not be defeated again.
At the same time, a priest by the name Risei Kotomine plans with his son, a war master, and four other people to compete for the Holy grail.
The illustrations aid with getting a clear picture of the characters. Additionally, the behavior of the characters is narrated in fun and unique way which makes the novel a great read. I recommend it.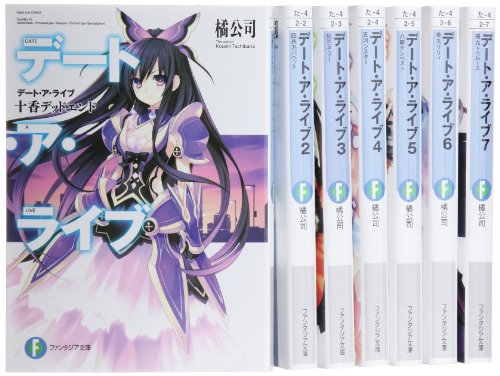 This is a Japanese light novel series written by Koshi Tachibana and illustrated by Tsunako. The light novel series has been followed by anime and film adaptations. The first volume of this series was published on March 19, 2011, by Fujimi Shobo's Fujimi Fantasia Bunko.
Summary
The story begins with a phenomenal, extremely strange and destructive, known as a spatial quake. It destroys the center of Eurasia resulting in over one hundred million casualties. For thirty years, small spatial quakes occur at irregular intervals.
In the present, a high school student named Shido Itsuka finds a strange girl at the site where a spatial quake has occurred.
Kotori, Itsuka's adopted sister informs him that the girl is a spirit from another world who causes the spatial quakes. Additionally, he learns that Kotori commands an airship by the name Fraxinus. The airship is crewed by an organization Ratatoskr which employs Itsuka to use is abilities to stop the disastrous effects that these spirits cause. However, to do this, he has to make the spirit fall in love with him and make her kiss him.
Itsuka goes about this task successfully with help from allies such as his classmate Origami Tobiichi, whose work is to reduce the threat caused the spirits. One spirit after another and one kiss after another, Itsuka saves humankind from spatial quakes for he is not only affectionate but also attentive.
This is a very entertaining read for anyone, whether you are into anime or not. A definite must read!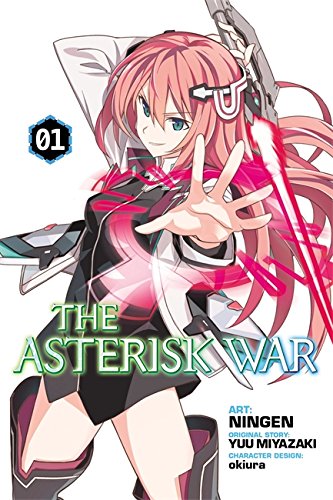 This is a Japanese light novel series written by Yuu Miyazaki and illustrated by Okiura. Ten volumes have been published by Media Factory since September 25, 2012. The novels series has been adapted for a manga series and an anime television series. The anime series has aired two seasons each with twelve episodes. A video game called The Asterisk War: Houka Kenran which was released on January 28, 2016, in Japan.
Summary
The story is set in the 20th century where an occurrence called an invertia destroys several world cities. This results in a decline in the economy. Therefore, The Integrated Empire Foundation makes arrangements to take over the world's leadership.
The city of Rikka (Asterisk) has six academies which host contests also known as festas between humans and Superbeings called Genestella.
Seidoukan Academy ranks fifth in Asterisk. A Genestella by the name Ayato Amagiri has lost his sister, Haruka, and makes efforts towards finding her. Day one as a student finds him dueling Lieseltanian Princess Julis-Alexia Von Riessfeld. The duel is stopped and Amagiri is moved to the Seidoukan Academy.
Amagiri forms a partnership with Alexia to prepare for a festa. They sharpen their fighting skills together. At Seidoukan Academy, Amagiri meets a beautiful silver haired girl of thirteen who is a powerful fighter. This girl, Kirin Toudou, seems to like Amagiri but that does not prevent her from challenging him in a duel.
A great fun read. I highly recommend it.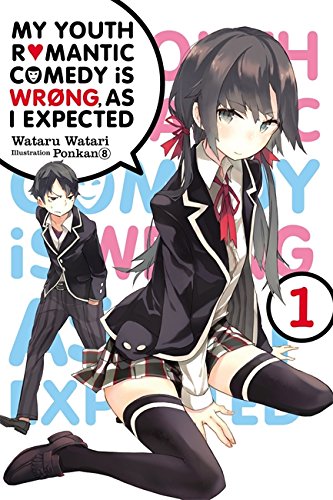 This is a Japanese light novel series also known as My Teen Romantic Comedy SNAFU. It is written by Wataru Watari and illustrated by Ponkan8. The light novel series is published by Shogakukan. The first volume of this series was published on March 18, 2011.
There are three manga adaptations and an anime television series with two seasons. The first season aired between April and June 2013 and the second season aired between April and June 2015. There is also a video game adaptation published by 5pb. The first video game was released on September 19, 2013, and the second was released on October 27, 2016. The video game goes by the title Yahari Game demo Ore no Seishun Rabu Kome wa Machigatteiru.
Summary
Hachiman Hakigaya is a student of class 2F at Sobu High School. His classmates are prejudiced against him, driving him to the point of isolation where has no friends or a girlfriend.
Hachiman has strange ideas such as believing that both youth and happiness are illusions. Such beliefs are rooted in his past experiences. He is also unambitious and downright pessimistic.
Clearly worried about his zero social life, his teacher, Shizuka asks him to join the Service Club whose only other member is the beautiful Yukino Yukinoshita. She is in class 2J and comes from a rich family. She is nicknamed "Ice Cold Beauty" because of her snobbish character. Most boys like her making her the least favorite with the girls. Therefore, she has very few friends. At first, she does like Hachiman but soon opens up to him. This is the second time the two actually cross paths.
Their first encounter was after a car accident where Hachiman gets hurt trying to save Yui's puppy. Hachiman is admitted in the hospital for three days. Yui is affectionate towards Hachiman but he misinterprets these feelings as guilt. Therefore he decides to stay away from her. At the same time, he discovers that the car involved in the accident belonged to Yukino. For this reason, he avoids her too.
The agenda of the Service Club is to help and give advice to other people. Yui, a bubbly fun-loving girl in Hachiman;s class, is the first person to ask the club for help in the form of baking cookies. Later, she also becomes a member of the Service Club. Yui is also part of Hayato's clique. In this group, she is voiceless and is frequently overwhelmed by Yumiko. Since rescuing her puppy, Yui has repressed her feelings for Hachiman because she struggles with letting her feelings known. Her affectionate name for Hachiman is Hikki.
Hachiman's younger sister, Komachi, is the complete opposite of him. She is very social and is a member of the student council. She loves her brother and understands his anti-social behavior. In most cases, she also depends on him. Komachi makes the effort of either hooking up her brother with Yukino or with Yui.
This light novel series is very nerdy in a Japanese kind of way. Hachiman is a very relatable character making it an enjoyable read for anyone who felt out of place in high school. I recommend this book.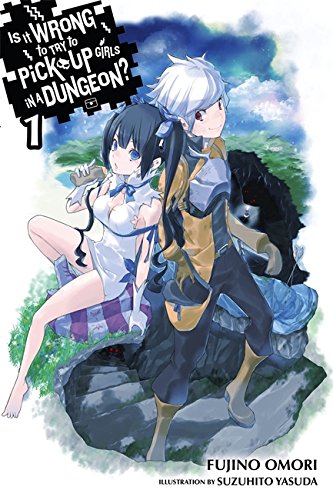 This is a Japanese light novel series written by Fujino Omori and illustrated by Suzuhito Yasuda. It is published by SB Creative under the GA Bunko imprint. There are three manga adaptations and an anime television series that aired between April and June 2015. The next anime television series will air in April 2017.
Summary
The story takes place in a fictional country called Orario. The main feature in this country is a dungeon. The dungeon houses all sorts of creatures from goblins to dragons. Explorers visit the dungeon to fight against the creatures and in turn take their crystal shards. The crystal shards are used to create magic objects among other things. These crystal shards can also be bought with money.
The Orario people belong to groups called Familia. Their roles include crawling in the dungeons, creating objects among other things. Every Familia worships a resident deity and is named after this god. The explorers are given different levels where their levels and capabilities increase depending on the achievements they make. This style is similar to the levels found in games.
Explorer, Bell Cranel, is a fourteen-year-old in a Familia that worships goddess, Hestia. He is the only member of this Familia. Bell is a hard worker who visits the dungeon each day to make a living. His role model is a famous and strong swordswoman by the name Aiz Wallenstein who had once rescued him. From that day, Bell had fallen in love with her.
Bell is also not aware of the fact that several girls and goddesses are in love with him, including his own goddess Hestia. This is because after every obstacle he comes across, he comes out a victor and his level increases.
I bought this light novel series after realizing that the anime is not as fun as the title suggests. This series gives more in-depth details than the anime whose story rotates around the main character whose objective it to build a harem with adventurous girls. The book builds its story around the country of Oraria where dungeon exploration is carried out. Explorers are bestowed with blessings by their deities in order to move a level up and win higher levels. The series reminds me of those days when I wished I could have lived inside a game. I recommend this series.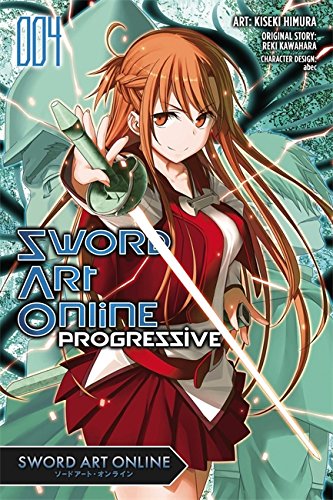 Sword Art Online is a Japanese light novel series authored by Reki Kawahara and Illustrated by Abec. The book was first published online under the pseudonym Fumio Kunori. On April 10, 2009, ASCII began publishing the novel under the imprint Dengeki Bunko. The series has 19 novels so far. It has also been published in North America, UK, China, Taiwan, South Korea, Poland, and France.
Kawahara began writing the same series under a different title and explaining the events floor by floor of the Aincrad arc. The title is Sword Art Online: Progressive which had four volumes by December 2015.
Summary (Sword Art Online Progressive 4)
Kirito and Asuna think over the current occurrences including the attempted murder of Kirito by Morte through a duel on the third floor. They come to the realization that the man in the black poncho who encouraged the weapon improving scam on the second floor was Morte.
They both return to the fifth floor where they eat a buff in a restaurant called Blink and Brink. This helps them to easily find relics and treasures more easily. Kirito mentions that during the beta period there had been many relic hunters and assumed that the two central guilds were most probably hunting relics at that time to upgrade their war chests.
With the help of the buff, they earn a cor and move to the fourth floor to acquire their reward of defending Yofel Castle.
Kirito decides to pick a new sword to replace his present one. His former sword was damaged too much to be repaired and the current one, which he had received from an elf in the forest, could only be upgraded once to be strong enough.
They meet Agil who informs them that he is working as a merchant and offers them his boat since they had left their gondola at Yofel Castle.
On completing their quest, Kirito and Asuna head back to the restaurant. They are surprised to find that the cor has not been sold out. They also wonder why Argo's guide cannot yet be seen. They then head to their rooms but Asuna discovers Kirito leaving and follows him to the dungeon.
While following him on the second floor, Asuna accidentally falls through a trap door when she sees a ghost. In the process, she also drops her rapier. The rapier is taken by a Shrewman and Asuna chases it to get her rapier back. Asuna is attacked by monsters in the process and she kills them to defend herself. At the same time, she comes across a note with coordinates to a location on the current floor. Asuna soon finds the location. Here, she finds Morte and a supporter who are arranging a fight between the guilds. The supporter kills the monster with the rapier and takes it himself. Kirito also appears and the three ready themselves for a fight. Asuna yells making the supporter drop the rapier. Another monster grabs it but she kills it and reacquires her sword.
It is difficult to rate this volume with four stars because I loved volume one and two. I really had high hopes that this volume would go into deeper detail in portraying Argo's character. but it is obvious this character was best described in volume one. Although I get the fact that other parts of the story had to move on, it was sad to have one of my favorite character, Kizmel, missing in action. This is definitely where the difference is felt between volume two and three and volume four. I really felt the absence of this special character. All the same, this was a great addition to the series especially because I learned more about the Laughing Coffin Guild which is basically the center of the story as compared to the previous volumes where it was a side story. A great read. I recommend it.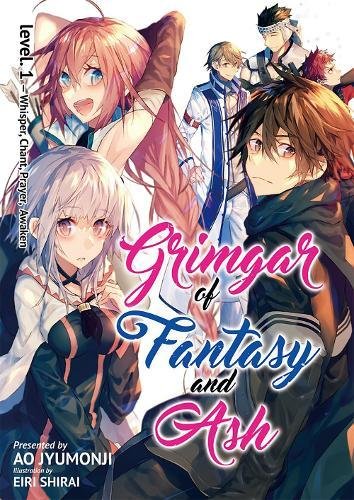 This is a Japanese light novel series authored by Ao Jumonji and illustrated by Eiri Shirai. There is also a manga series adaptation is started by Mutsumi Okubashi in Gankan Joker in 2015. There is also an anime television series which has twelve episodes which aired from January to March 2016. Funimation has licensed the anime in North America and J-Novel Club had bought the rights to publish the original novels in English. Yen Press publishes the manga adaptations.
Summary
A group of people finds themselves in a fantasy world with no memory of the life before. In order to survive, Haruhiro forms a group with the rest of the party where they learn how to fight. Haruhiro becomes one of the volunteer soldiers in the reserve force and makes his way into the fantasy world of Grimgar with no idea of what lies ahead of him.
One of the explorations takes Haruhiro and his friends to a dungeon called the Cyrene Mines where Merry, the newest member of the group, had lost her companions.
Exploration is proving a difficult task as each adventure is characterized by attacks. During one exploration, a member of the party disappears and they are ambushed by a giant.
At first Grimgar sounded so much like other light novels I have read before where a boy from earth finds himself in a fantasy game. He and his friends gain fighting skills which help them move from one level to another, win rewards and fight monsters.
However, Grimgar is different. The first reason is that none of the characters remember anything from the world. They are fighting simply for survival. Secondly, they take fighting with a lot of seriousness since several of them lack the skills completely. The fighting in this story is dangerous and the characters have such a hard time protecting themselves. In this book, one can surely feel the fear the characters are experiencing. The final reason is that the book is written by a brilliant author who always has something interesting up his sleeve.
The Grimgar adventurers are real in that they know little to nothing about adventuring and have a hard time liking each other. This fact makes the story that more interesting. The story is also tragic when they group loses one of its own. The characters take on a gloomy mood and when a new member replaces the departed one, there is some friction here and there. The story also consists of some comedy here and there.
This is definitely one of my favorite light novels. Its realistic approach is surprisingly refreshing and captivating. Learning about Haruhiro and his friends and exploring them through their intense battles is a great and entertaining experience. This is definitely a great read for anyone who likes fantasy novels and prefers realistic characters. I recommend this novel.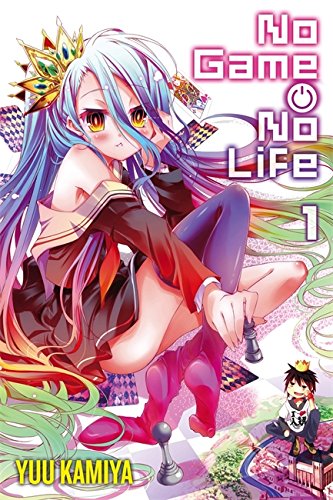 This is a Japanese light novel series written by Yuu Kamiya. The series is published under the MF Bunko J imprint. The novel was adapted into a manga serialization by Yuu and his wife for the Monthly Comic Alive in 2013. An anime adaptation of the same was released by Madhouse in 2013. It aired on AT-X between April and July 2014. In North America, Yen Press publishes the light novels while Seven Seas Entertainment licensed the manga and Sentai Filmworks the anime.
The series sold over one million copies and the manga appeared in the New York Times Manga Bestsellers.
Summary
Sora and Shiro are hikikomori step siblings are known in the online gaming world as Blank. The two have never been defeated in any game.
One day, the undefeated duo is challenged to a game of chess by a god, Tet, from another dimension. They both win the game are rewarded with a life of living in a world that is characterized by games.
In this world of Disboard, a spell called the ten pledges, keeps the people from turning against each other. Instead, they are made to resolve their differences through gambling with games. The rules and rewards of the games are enforced through magic. Cheating is allowed in the game as long as it is done discreetly.
Sora and Shiro move to Elkia, the world where humans live. While here, they become friends with the Duchess Stephanie Dola. On learning about the trouble in Elkia, the two get involved in a contest which is to determine the next leader. They win the leadership of Elkia and are granted the right to challenge other species in Disboard as the representatives of the humans. Their objective is to defeat all sixteen species in order to challenge the god, Tet to a contest.
I know a lot of you are waiting for the anime and the good news is that it will soon be here. That should be a reason to celebrate. As for this volume five light novel, the story just gets better and better. The relationships of the characters have gotten deeper. Although I do not want to spoil anything, Elkia is expanding thanks to the smart strategies of Sora and Shiro. They also have a fun club now. The volume also gives an account of Fiel and Clammy and what they have been doing. This was such a good read and I enjoyed it in a way I haven't been able to with other books. I recommend it.